Welcome to my gallery. Enjoy the pictures but please contact me before using my copyrighted designs. Most of my beadwork is original and instructions can be purchased or will be placed in the "FREE PATTERNS GALLERY". Thank You!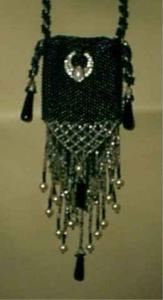 Antiqued Black Amulet Bag
This amulet bag is done using the peyote stitch, with matte black and silver plated seed beads.